Tektronix THS720A Scope/True RMS DMM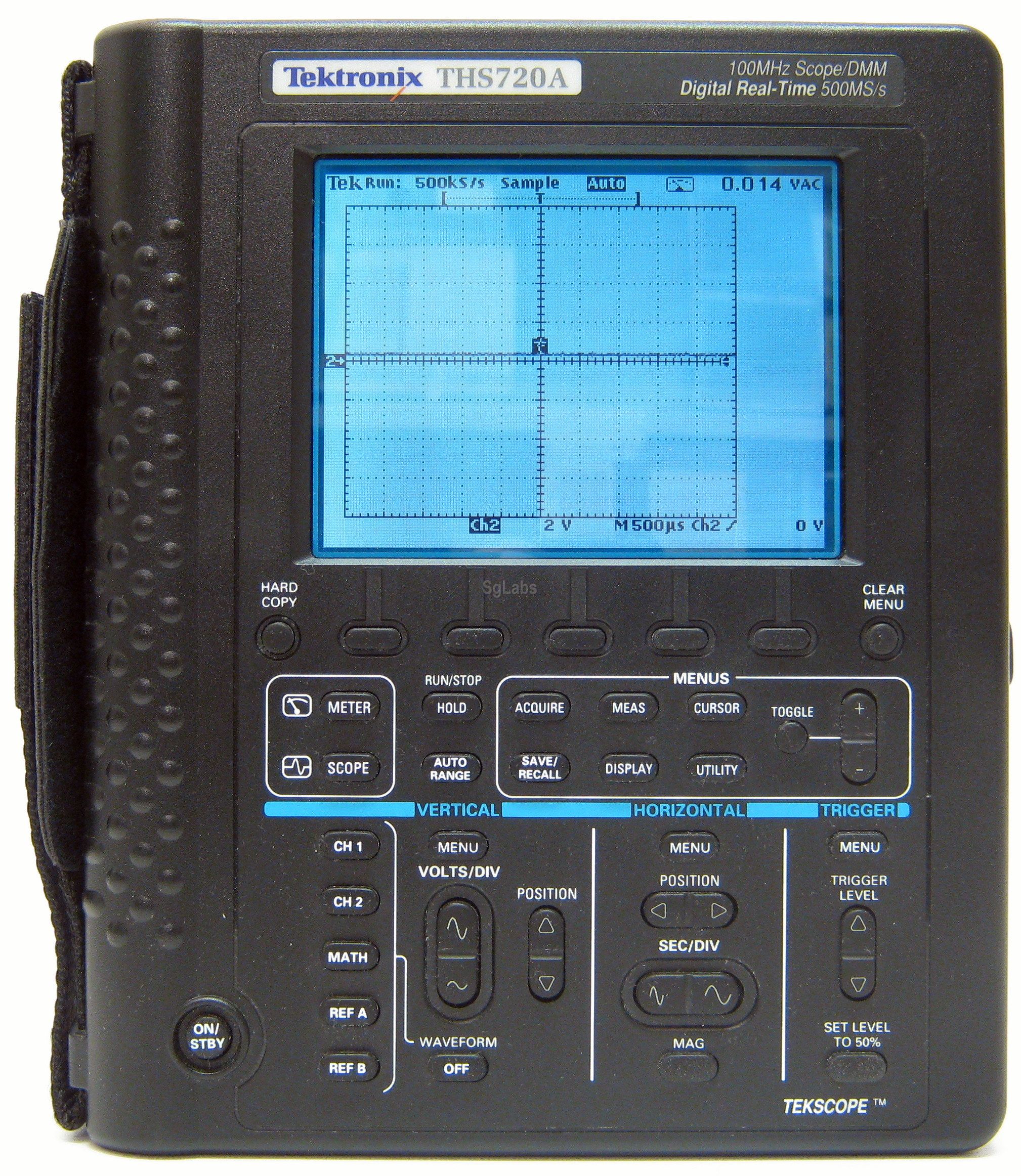 The TekScope THS720A Scope/DMM combines a full-featured real-time oscilloscope with a True RMS digital multimeter in rugged, battery-operated instruments. Scope and meter modes can operate simultaneously and independently on the same or separate signals.
The high-resolution, backlit display and pop-up menus make it easy for users to take full advantage of the instrument's many features. These include cursors, video trigger, voltage and resistance measurements and storage of waveforms, data and instrument setups.
In addition, they offer the most comprehensive triggering capabilities – external trigger and extensive triggering including delay, pulse width and video. The THS700A Series is ideal for electronic applications – at the bench or at the site. This unit shares measurement features with the THS720P Scope/DMM which includes features to address the needs of electric/power electronics measurements.
Bandwidth
100-MHz Digital Real Time
Sample Rate
500 MS/s each channel
Time/Division Range
5 ns to 50 s/div
Channels
Two
Sensitivity
5 mV to 50 mV/div (to 500 V/div with 10X probe)
Vertical Resolution
8 bits
Record Length
2500 points
Time Bases
Main or delayed run after
Display Modes
Vectors, dots, vector accumulate, dot accumulate, YT, XY
Triggering
Main only, edge, pulse, video lines, video fields
Acquisition Modes
Sample, envelope, average, peak detect
Autorange
Controls volts/div, time/div, trig level and acquisition mode
Waveform Maths
Ch1 + Ch2, Ch1 – Ch2, CH1 x Ch2
Cursors
H bars, V bars, paired (volts @ time)
Measurements
Pk-Pk, mean, min, max, rms, +width, -width, frequency, period, +duty, -duty, rise, fall
Multimeter
Resolution
4000 counts, 3.75 digits
DC Volts
400 mV-880 V True RMS
AC Volts
400 mV-640 V True RMS
Resistance
400-40 MW (with continuity beeper)
Diode Test
Up to 2 V
Other DMM Features
Autorange, true rms, average meas., hold, statistics, Min/Max Alarm
General Features
NV Storage
10 waveforms, 10 setups, 100 DMM saved screens
User Interface
Simplified TDS 320 with pop-up menus
I/O
RS-232 (to 38.4K baud)
Chassis
Battery Operated, hand-held
Reliability
Calculated MTBF 20,000 hours @ 25 degrees Celsius